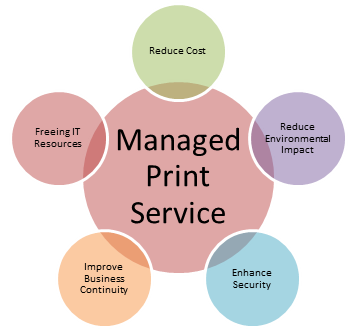 MPS Most common term used for referring Managed Print Services. MPS is the print services provided by the printers for assisting business with  streamlining  printer management. It also minimizes the cost related to printing. MPS is emerging because most of the organization do not define a proper strategy of printing, mainly because of two reasons:
It is very time-consuming
It is ranked low on the priority list
Face reality! Yes, business is always busy, there are a hundred more things to deal with print strategies. This does not mean that it is not important for your business. Not having a proper print strategy will cost a business a lot of extra money. Print services cam occupy somewhat between 1% to 10% of the total business revenue.
Here are six top benefits of availing managed print services.
Have a proper strategy:Managed print services will deliver advance solutions. It is not just about focusing ok your machines and usage. It is about your whole printing environment. With Managed print services a business will be able to: Enabling printing security, Deal with the mobility issues, Implement price accounting initiative
Adjust according to network changes:  Network unavailability and connectivity is also a major issue. Network issue is most commonly faced by many business organizations. Any issue arises associated with your print network is also the responsibility of a managed print services program. No matter, it is needed to change or upgrade the workstation, or to change the IP address of the equipment to relocate. It is a headache of managed print services in Sydney. We have all the resources to make sure your printing environment remain unaffected by these changes. 
Free IT Department:The information technology department doesn't bother about fixing printing issues or dealing with troubleshooting. They are more concerned with more complex projects and issues to solve than to worry about managing break foxes of the print mechanism.
All-in-oneManaged print service keeps tracks of the printer use. This facilitates the provider to know when the ink is running low or when supplies are about to end. Moreover, supplies, services required on-site, and replacement of equipment. It also covered under a managed print services program, with no additional charges.
Help deskUnder managed print services, you will have access to experienced and professional technology-savvy presentative in normal business hours. They intended to help you in any sort of printing, copying, network connectivity issues or scanning. Plus, the help desk is equipped with all the resources required to upgrade your machinery and software. 
Remain in your budgetPutting an effective print strategy that will monitor all your fleet of equipment can provide to your organization. Managed print services will save your money up to 30%. Yes, you are right, macro print services also come with the standard service, supplies and maintenance pack. Availing Managed print services will benefit your business allot. Without any shadow of a doubt, go for the managed print services instead of managing all this mess on your own.